Sherman Oaks Upholstery Cleaning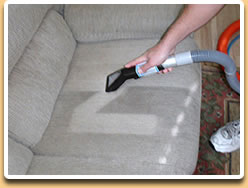 What could be more invigorating than to come home and relax on comfortable, clean furniture? Whether you are sleeping in your bed or watching your favorite television program on a sofa; having clean cushions, pillows and mattresses make all the difference! Here at Sherman Oaks Carpet Cleaning Pros we offer professional grade, deep cleaning for your home or commercial upholstered furniture. Now you can affordably have your furniture fabrics deep cleaned and treated, resulting in longer lasting furniture and a cleaner more healthful living experience.
Call Now: (818) 643-5723
You paid good money for your furniture and you naturally want it to last as long as possible. You also want it to look its best and be comfortable. The best way to accomplish all this is to schedule one of our Sherman Oaks upholstery cleaning sessions for your furniture pieces. We can expertly remove stains, odor and ground in dirt that can leave your furniture fabric looking worn, and stained and smelling badly.
Q: How does having my furniture upholstery professionally cleaned help to prolong its life?
A: Wear and tear is rough on furniture fabric and cushions but so is ground in dirt and grime. Debris of all kinds, work hard to break down the woven fabric of your furniture upholstery so that it needs repair or full replacement sooner. This causes an expense for you plus the added inconvenience of having to shop for new pieces.
Call Now: (818) 643-5723
Sherman Oaks Carpet Cleaning Pros offers economical and professional solutions to having dirty and stained residential or commercial furniture. Our technicians use eco-friendly cleansers and gentle detergents to remove debris, stains and odor from your furniture fabric. Our state of the art cleaning methods work and work well. We can clean sofa cushions, chaise lounges, bed mattresses, throw pillows, pet bedding, bar stools, restaurant seating, car interiors, home theater seating, futons, footstools, bed pillows, couch cushions, recliners, patio furniture, waiting room couches and much more.
Q: Are you cleaning methods safe for my furniture?
A: Completely! Sherman Oaks Carpet Cleaning Pros uses gentle but powerful cleaning solutions and techniques that rid your furniture fabric of pollutants like dirt, grime, allergens, blood, food particles, pet dander, drywall dust, lipstick, ink, coffee, urine, kitchen grease, dust mites and even harmful bacteria. We use a combination of dry foam cleaning, steam cleaning and hot water extraction to remove these harmful and annoying contaminants, leaving your furniture fresh, clean and free of grime and ugly stains.
Your furniture will look better and last longer with periodic upholstery cleanings from Sherman Oaks Carpet Cleaning Pros. Say goodbye to stains, smells and annoying health problems like sneezing, coughing, itchy skin, watery eyes and rashes. Prepare to enjoy comfortable and healthful relaxation at home or at work with beautifully clean upholstered furniture from Sherman Oaks Carpet Cleaning Pros.
Call Now: (818) 643-5723